Rome-based goldsmiths and jewelers, the Cassios had their workshop in the Trajan's markets. It was here that in the 19th century they introduced the micro-mosaic pattern in the making of their valuables, thus pleasing and complying with the taste of the time. Aware of the changing times, around the middle of the century their activity extended to paintings, decorations and furniture which was really appreciated at the time and, in fact, it is still sought after by collectors and art enthusiasts worldwide.
Soon afterwards, some family members began cooperating with the Vatican mosaic Studio, marking the studio's creativity up to the present day.
Lorenzo, who was the Director, stepped down in 1954 only to be followed by his nephew Virgilio– also active partner in studio Cassio until 1985.
In the aftermath another offspring Fabrizio Cassio, endowed with a remarkable entrepreneurial spirit decided to work independently.
Specific improvements regarding the so-called indirect technique paved the way for the Studio Cassio to earn a good name at an international level. By now our artworks were produced in Rome and shipped overseas or even assembled in situ by the studio mosaicists visiting France, Belgium, Germany, Tunisia, Lebanon, Iraq, the Philippines, Hong Kong etc. The tremendously high quality of the work, the competitive costs and the steady prices facilitated relations (1950 -1970) with mosaic workshops across the USA. Mosaics made by Studio Cassio embellished buildings in New York, Chicago, Detroit, Milwaukee, Gettysburg Wichita, Duluth, Wilmington. Not surprisingly the studio was entrusted with the floor mosaic IMAGE for John Lennon's Memorial in Central Park.
In the field of restoration, the studio undertook prolonged restorations in Pompei, Herculaneum, the baths of Caracalla, the National Roman Museum, Villa Torlonia, the Roman Aquarium, etc.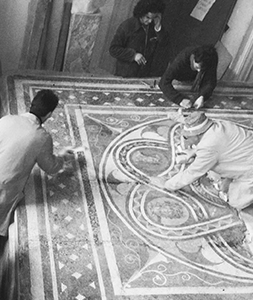 True to the best tradition in the family, the new generation follows in the footsteps of the master mosaicists carrying out extensive and important tasks. In serving new clients, companies and commissions, the studio continuously renews the ever-present partnership with artists and designers who have cooperated with the studio over the years. The big names of Duilio Cambellotti, Enrico Gaudenzi, Giorgio Quaroni, Johannes Hajnal, Paolo Cotani, Elisa Montessori, Valeria Gramiccia, Giulia Napoleoni, Silvia Codignola, Dario Passi, Giuseppe Pasquali, Sandro Sanna, John Armleder sound very familiar to the Studio Cassio.
Stefano Cassio
Art director
Uliana Medikova
Master mosaicist, Work supervision
Sara Gozzaldi
Master mosaicist, Short courses
Maurizio D'ugo
Master mosaicict, Wall and floor mosaics, Restoration
Carlo Maiorani
Master mosaicict, Wall and floor mosaics, Restoration
Viviana Belleggia
Master mosaicist, Micro-mosaics